Share Your Ideas
Welcome
Welcome to the second engagement for the Southview Affordable Housing development.
If you or someone you know would like to participate in a language other than English or need translation, please call 311 and ask for language translation.
If you would like to participate in a live Q&A session with the project team and designers, please sign up at one of the links on the right hand of this page under "Key Dates".
Please review this document to learn more about the project and then answer the questions below.
Outdoor Space Feedback
Please answer the following questions on outdoor spaces. You will have an opportunity to suggest other ideas later in this survey.
Share your ideas by clicking on the red "Start" button below.
Drop a note with your idea for outdoor space uses
Tell us your idea and like other ideas below by clicking on the heart icon.
Show support for other ideas by clicking on the heart icon
15 February, 2021
JF says:
Some outdoor recreation spaces for all weather/multi-purpose use. Skating, basket-ball courts, etc.
14 February, 2021
L. CB says:
I personally would like to see a soccer field with a field house instead of housing.
12 February, 2021
Wendy W says:
survey didn't work. Main hopes: open space for fitness, art, homework help, play to include residents & neighbours wanting to participate
11 February, 2021
Robin says:
Forest lawn has no Hospice for the seniors or people coming to the end of life. Families have to travel for hours to and from other communit
11 February, 2021
Dover resident says:
How about a kids recreation centre? The neighbourhood is getting many new young families! There is not enough parking for a complex
7 February, 2021
Shary says:
Outdoor spaces need to be monitored
5 February, 2021
Scott says:
Let's build resilient and healthy communities through an urban controlled environment agriculture project! #GrowFood #CEACollaboration
4 February, 2021
Pat says:
The space could be used for Controlled Environment Ag. Residents could learn/contribute to improved food security and culture in YYC.
4 February, 2021
Bella says:
Your survey was terrible. I filled everything out even though it was a pain to drag everything over, then it kept telling me I made invalid
4 February, 2021
Lacey says:
We do not need more up here find another part of the city.
3 February, 2021
samantha says:
This is a wonderful idea. Great place for affordable housing. I strongly support this location.
3 February, 2021
Kelsey says:
Outdoor spaces should be for public use, older communities seem to be overlooked when it comes to upgrading and maintaining parks.
Project Information
The Southview feasibility study has explored options for affordable housing that meet the needs of affordable housing clients and reviewed options for operationally sustainable development over the long term (in partnership with The City of Calgary, the Province of Alberta, and Calgary Housing Company).
The site offers many advantages, including proximity to downtown Calgary, area services like the MAX Purple bus rapid transit line, and convenient access to area amenities and workplaces.

The Southview affordable housing development will allow for:
200 units proposed in the redevelopment
Better integration into the community with more public amenities and open space.
A mixed-income rent model
Background Information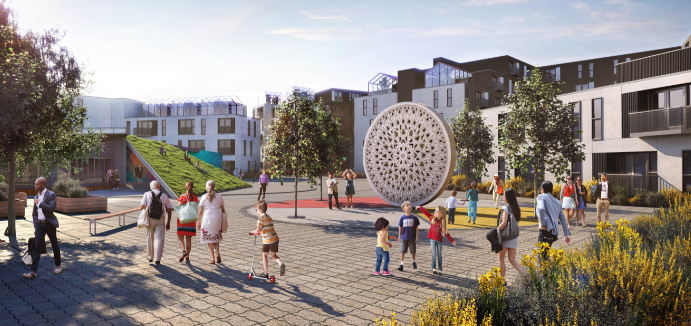 Affordable Housing in Calgary
The Affordable Housing division at The City of Calgary works to meet housing objectives and policies as approved by City Council.
To meet the ongoing need for affordable housing in Calgary, The City of Calgary's Foundations for Home Affordable Housing Strategy 2016-2025 includes the design and construction of new Affordable Housing units as a key priority, increasing the supply of homes to those in need.
Affordable housing sites are chosen based on specific criteria including proximity to amenities such as transit and grocery stores. Redevelopments are informed by research on tenant preferences, industry best practices and extensive consultation with community stakeholders and citizens to ensure the developments are well-integrated into existing neighbourhoods.
Some of the policies that guide our work:
Recognize and encourage affordable housing as an integral part of complete communities.
Create affordable housing in all areas of the city.
Create affordable housing located close to amenities such as parks, schools, transit, recreation facilities, and medical and commercial services.
Develop affordable housing that is indistinguishable from market housing.
Provide rental housing that is affordable to low and moderate income
What is mixed-income affordable housing?
The mixed-income housing model integrates different rental rates for units, from deeply-subsidized affordable housing up to near-market rates. By offering some units at near-market rates, housing providers can offset the operating costs of the lower-rate units. There are no differences in quality between units offered at higher or lower rates.
Benefits for mixed-income housing
More self-sustaining, and less reliant on tax-supported government funding.
Allows affordable housing tenants to remain in place as their income changes.
Integrates residents of varying incomes, providing a sense of community and inclusivity.
Gives Calgarians of varying income the opportunity to live in their neighbourhood
What is a development permit (DP)?
Each land use district has its own set of development rules outlined in the Land Use Bylaw. A development permit confirms that all the rules and planning policies have been considered. It also provides a process for neighbours, community associations and other affected individuals and organizations to provide feedback.
A City Planner will consider the following when reviewing a DP application:
Assess the context and character of the neighbourhood.
Research relevant planning policies and apply them as required.
Check for applicable provincial planning legislation that may impact the application.
Receive and respond to comments from the public and the circulation groups.
How to provide your feedback to the City Planner
Once the DP has been submitted, a sign (Notice Posting) will be posted on the development site with information on how to provide feedback as a member of the community. The Community Association and other stakeholder groups will receive a letter from the file manager with a request to provide feedback within 21 days
FAQs
Do you have any questions?
Closed
Activity closed 02/15/2021 at 11:59 PM