Your input
Thank you to everyone who provided input! The opportunity to provide input is now closed.
The City of Calgary asked for public input on river access site locations, required site amenities and benefits and concerns regarding river access. We also asked about the strengths and weaknesses of our planned sites, and any other suggestions or concerns we should consider as part of the River Access Strategy. For more information on the feedback received, view the River Access Strategy What We Heard Report.
The Calgary Review Access Strategy was approved by Council on February 13, 2017. For more information, please visit the Calgary River Access Strategy project page.
---
WHAT WE ASKED
The two maps included in the tabs below (boat launches and walk-in, hand launches) provide the general areas of the prospective river access sites.

To access a zoom-enabled Google map of the prospective sites, please follow this link.

All sites were subject to change, based on the public input received, as well as any other site information that may arise. We encourage you to come back to the site frequently to see if sites have been added or eliminated.
Additionally, The City of Calgary gathered feedback and encouraged discussion among river users through a series of discussion forums. We asked river users questions about our proposed sites and our education, environment and economic programs related to the River Access Strategy.
If you have any questions, please contact us at riveraccess.strategy@calgary.ca.
About the project
The Bow and Elbow rivers are important parts of our community. Each year, thousands take to the rivers in rafts, canoes, kayaks, and drift boats.
At the same time, there are limits on peoples' ability to access the rivers. Several factors, including the 2013 flood, have resulted in the closure of several hard launch points for boat trailers. While smaller boats can be launched from many places along the river, these spots are not always formalized. There can be challenges with parking and lack of access to bathrooms, garbage cans and other park amenities.
Developing a strategy
In June 2016, City Council asked Administration to create a strategy that will allow for better access to the river while respecting the needs of all park users and the environment. This strategy will require cooperation between different City departments, the Provincial and Federal governments, river users and other stakeholders.
The goal of this strategy is to ensure easier, safer, legal and environmentally-friendly river access to the Bow and Elbow rivers. The outcomes will include a strategy and implementation plan that will identify stakeholders, potential new access points, safety and cost. Environmental considerations will also be paramount and sensitive riparian areas will be protected, according to The City's Riparian Strategy. We will also consider promotion and education around river use, and working with businesses to create economic opportunities around river use.
It is expected that a strategy will be developed and presented to Council in March 2017.
Detailed information about the River Access Strategy can be found at www.calgary.ca/riveraccess.
Boat Launches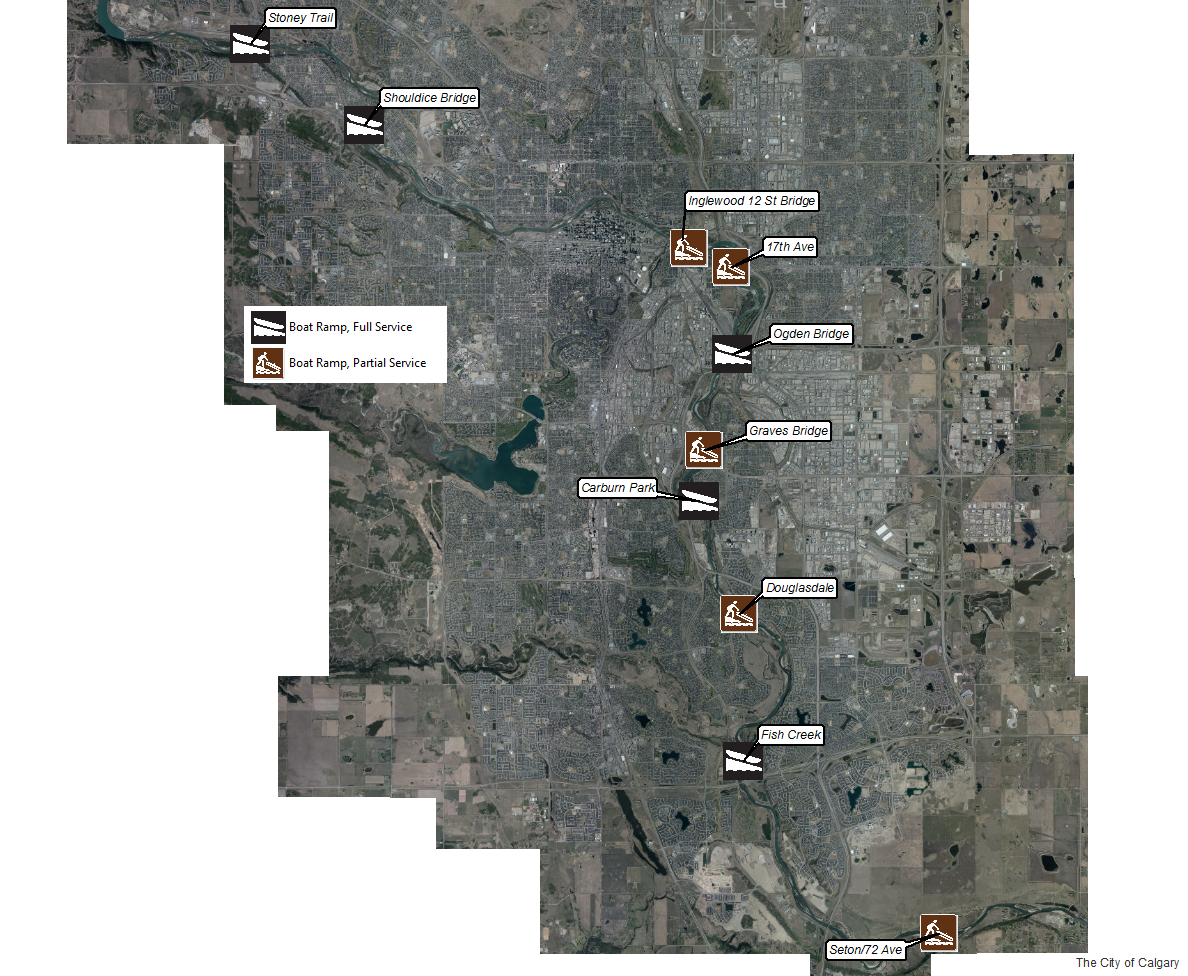 Walk-in, hand launches
To access a zoom-enabled Google map of the prospective sites, please follow this link.
River access sites are defined as:
Full service boat launches would accommodate a boat trailer. A boat ramp here would likely be more substantial (eg concrete blocks). The site would likely have plumbed in washrooms, ample parking, and possibly even change rooms or vendor services.
Partial service boat launches would accommodate a boat trailer and have a boat ramp. We are exploring the use of "flexmat" boat ramps which could be portable in case sites are flooded and we need to change them. The site would have limited parking and outdoor or portable toilets.
Walk-in, hand launches provide a slope where it is relatively easy to carry in a craft such as a canoe, raft, kayak, etc. There will be no trailer access. There will be washrooms at many or most sites, but they might just be portable toilets. Most sites have nearby parking, but a few sites might be more geared towards local residents as parking would be scarce.

---