Project Information
Introduction
The City of Calgary is creating a Master Plan that will guide the future development of a multi-use recreation hub for the Greater Forest Lawn area. The Master Plan will provide a redevelopment roadmap that will reflect the needs and desires of the community through an extensive public engagement, planning and design program.
Project Goals
Establish a multi-use recreation hub for the Greater Forest Lawn Area
Provide accessible, convenient, safe, affordable and inclusive services to support the aspirations and needs of the diverse local population and organizations
Invest in facilities for the Greater Forest Lawn area
Provide facilities that broadly support Calgary's youth, artists, and sports, recreation and multi-cultural organizations
Location
The site is located between 14 Ave SE and 8 Ave SE, and between 47 Street SE and 52 Street SE in Forest Lawn. The site is 26.4 acres and is in close proximity to the City of Calgary's 17 Avenue Main Streets initiative and the planned 52 Street SE BRT route.
What is the Project Proposing?
This project is proposing the development of new facilities in two phases including:

Phase 1a – Fire Station
A new 6-bay fire station
Community/neighborhood sports, recreation or greenspace amenity (TBD)
Phase 1b – Forest Lawn Cultural & Civic Centre
Arts and culture spaces
Library and outdoor learning center
Aquatics and fitness facilties
Community/social support spaces
Calgary Transit service counters
Office support spaces
Greenspace amenities, TBD:

Playground
Passive/gathering spaces
Event spaces
Treed/naturalized spaces
Community gardens
Playfields (soccer, baseball, cricket, other)
Sports courts (basketball, tennis, wiffleball, other)
A neighbourhood skate park
Outdoor aquatics/spray park

Private complementary uses including food and beverage services, day care, and professional/medical spaces
---
Background Information
The City has identified the need to invest in the redevelopment of several facilities located onsite or nearby. Facilities include the Bob Bahan Aquatic and Fitness Centre, Ernie Starr Arena, Forest Lawn Outdoor Pool, the Forest Lawn Athletic Park, the Calgary Fire Department's (CFD) Fire Station 12 and the Forest Lawn Library. These facilities are beyond their life expectancies or in need of expansion and optimization. Facility Management (FM) also identified the need for Arts and Culture spaces in the area and the potential to work with other community groups.
Site Selection
This specific site was chosen to complete a Feasibility Study for the future Forest Lawn Centre for a number of reasons:
The site is City-owned
The site accommodates many of the above-mentioned existing facilities
The site's size and configuration can accommodate the robust future programming needs of many City service lines in the Greater Forest Lawn Area (GFLA).
Feasibility Study
From 2018 to 2021, the City conducted a Feasibility Study to explore site development opportunities with City business units and civic stakeholder partners.
Preliminary functional programming for the Forest Lawn Civic Centre Feasibility Study was undertaken between the months of November 2018 to March 2019 in coordination with numerous City service lines and external stakeholders and partners.
Funding
It is important to note that currently there are no capital dollars for the design and delivery of a multi-service building or site. Opportunities for funding may be explored in future budget cycles to accommodate multiple users in a shared facility. Note that the amenities and spaces requested by each service line may not be funded or operated by the service line that made the request - there may be shared funding strategies and operating models or partnerships with non-profits or the private sector.
What is a Master Plan?
A Master Plan establishes a shared long-term vision and preferred layout to guide future development processes. The Forest Lawn Centre Master Plan will:
Identify preferred land and building uses and provide an optimal site layout for phased development
Guide future design, development and development permit application approvals
Satisfy the vision of approved City land use policies
---
Why a Master Plan?
The City is exploring a new multi-service site in Forest Lawn that will incorporate several City services in one location to provide better access for citizens. It will include a fire station, sports and recreation facilities, and a multi-service facility (library, aquatics, fitness, arts and culture, community/social, and youth and indigenous services in the community).
The City is focused on delivering facilities that contribute to the fabric of Calgary communities and provide the services that citizens want and need. One way we are doing this is to plan and build more multi-service facilities – making services more accessible and convenient and reducing cost for land, space, and building systems.
Colocation of services capitalizes on opportunities for program and space synergies between complementary uses.
This master planning process is how we develop a viable project budget. We will be assessing the information throughout this process to make sure we are obtaining the best value for the estimates that our consultants produce. When we have confidence in this, the project estimates will be used to make budget requests in 2023-2026.
Master Plan Timeline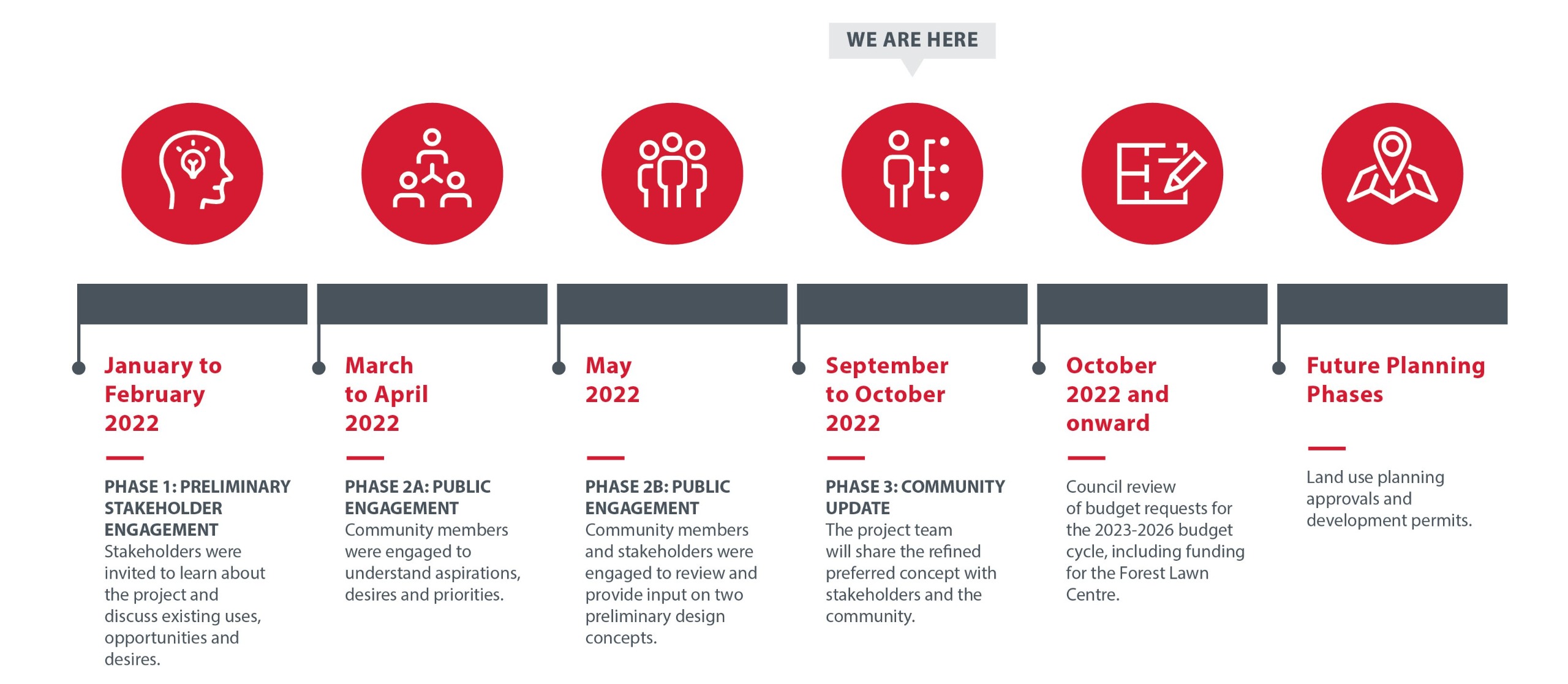 Phase One Engagement Opportunities (past)
PHASE 1

In January and February 2022, the project team asked stakeholders and community organizations to provide feedback and share their aspirations for the proposed spaces and facilities.
Participation Snapshot
7 invitations to 270 stakeholders and organizations
19 participants at 3 virtual stakeholder engagement sessions
5 Community Association and Business Revitalization Zone (BRZ) representatives at one joint meeting with the Local Area Plan (LAP) team
7 online contributions
What We Heard / What We Did
Click on the link to review the What We Heard and What We Did Report to learn how feedback received during Phase 1 Stakeholder Engagement influenced the preparation of two preliminary design concepts, which were presented during Phase 2 Engagement.
Phase Two Engagement Opportunities (past)
PHASE 2
From March to May 2022, the project team undertook a comprehensive public engagement program to understand desires, aspirations, priorities and preferences for a future recreation and cultural civic centre of the Greater Forest Lawn communities. Phase 2 Public Engagement was broken out into two sub phases:
PHASE 2A (March to April 2022)

Community members were engaged to understand aspirations, desires and priorities for the site. The feedback collected during Phase 1 Stakeholder Engagement and Phase 2A Public Engagement was used by the project team to prepare two preliminary design concepts, which were shared in Phase 2B.

PHASE 2B (May 2022)
Community members and stakeholders were presented two preliminary design concepts and were asked to provide their input to help the project team prepare a refined preferred concept, which will be shared with the community in Fall 2022
Click to review Phase 2 Report
Click to review Phase 2 Appendix A
Jane's Walk Event (Phase 2B)

Over the last two months, The City of Calgary has collected thousands of comments from the community on aspirations and ideas for a future recreation and cultural hub in Forest Lawn. We now invite you to join us for a Walking Tour in partnership with Jane's Walk, to view our preliminary design ideas and provide your input to help refine our plans.
Date/Time: Saturday, May 7, 2022 | 12 – 4 p.m.
Location: Bob Bahan Aquatic and Fitness Centre (4812 14 Ave SE, Calgary, AB)
Meet us outside on the south side of the building.
How to Participate
1. Self-Guided Walking Tours- Drop by between 12 p.m. and 4 p.m. to pick up your tour booklet and participate in a self-guided tour. No registration necessary.
2. Guided Walking Tours - Register via Eventbrite below to join a guided walking tour at 1 p.m. or 3 p.m. Register for a guided walking tour in Tagalog, Vietnamese or Arabic. Translation provided by Action Dignity.
YOU ARE INVITED
What to Expect
Members of the My Forest Lawn Centre project team will be at key locations along the walking tour route to share the latest project information and collect input on our preliminary design ideas for the site.
The walk should take approximately 30 minutes – please wear comfortable footwear.
The route follows sidewalks and paved pathways to make the tour as accessible as possible.
**Hot beverages and refreshments available for walking tour participants.
**Live art and hip hop dance performance by Antyx Community Arts at 2 p.m.