ABOUT THE PROJECT
Since November 2021, we have been working with area stakeholders to create Heritage Guidelines for areas in the North Hill Communities that have concentrated groupings of heritage assets, sometimes known as character homes. Heritage assets are privately owned structures, typically constructed prior to 1945, that significantly retain their original form, scale, massing, window/door pattern and architectural details or materials.
The Guidelines will contribute to the historic character of these specific areas by ensuring that new development respects existing heritage assets. The Guidelines will be included in the North Hill Communities Local Area Plan (LAP), a long-range planning policy document that guides growth and change within these communities.
These will be the first areas in Calgary to benefit from Heritage Guidelines. The Heritage Guidelines created as part of this work will inform subsequent Heritage Guideline Areas for other local area plans.
BACKGROUND
Communities in Calgary have sought area-based heritage conservation tools for a long time. In July 2020, Council approved a series of conservation tools and incentives to offer that area-based approach. The North Hill Communities LAP identifies a total of eight Heritage Guideline Areas, the first in the city. The Heritage Guidelines created as part of this work will inform subsequent Heritage Guideline Areas for other local area plans.
For more information about heritage property tools and incentives, click here.
---
GET INVOLVED
Online feedback is now closed. Thank you for participating! Click here for a What We Heard report of the feedback provided.
---
Heritage Guidelines Summary
The draft Heritage Guidelines are intended to apply to new development and significant renovations in the Heritage Guideline Areas. They ensure that new development responds to and enhances the historic character in these areas, the Guidelines address four overarching building elements. These include:
front facades
windows, materials and details
roofs and massing
site and landscape design
Overall, the Guidelines encourage new development to draw design reference from nearby heritage assets in ways that complement the unique and historic qualities of the Heritage Guideline Areas while allowing for modern interpretations.

Click here to read the full draft Guidelines.
Front Facades
The draft Guidelines encourage the fronts of new buildings to include a projection such as a porch, patio, veranda or sunroom. Front façades should also consider the vertical and horizontal rhythm of the historic streetscape and heritage assets on it.
Windows, Materials and Details
Generally, large horizontally oriented widows are discouraged unless they are divided into smaller vertically oriented windows. Windows are encouraged to have wide window casings or frames.
The Guidelines encourage natural or natural looking materials with heavier materials being located at the base of buildings. For larger buildings, changes in materials and/or colour should be used to differentiate individual units.
Roofs and Massing
The draft Guidelines discourage flat roofs and require that roofs facing the street be pitched. Design strategies should be used to reduce the visual impact of upper stores such as by using compound roofs or reducing the massing on upper storeys. When located adjacent to a heritage asset, new buildings should shift the massing away from smaller-scale buildings. Multi-dwelling buildings should have distinct rooflines that accentuate individual units.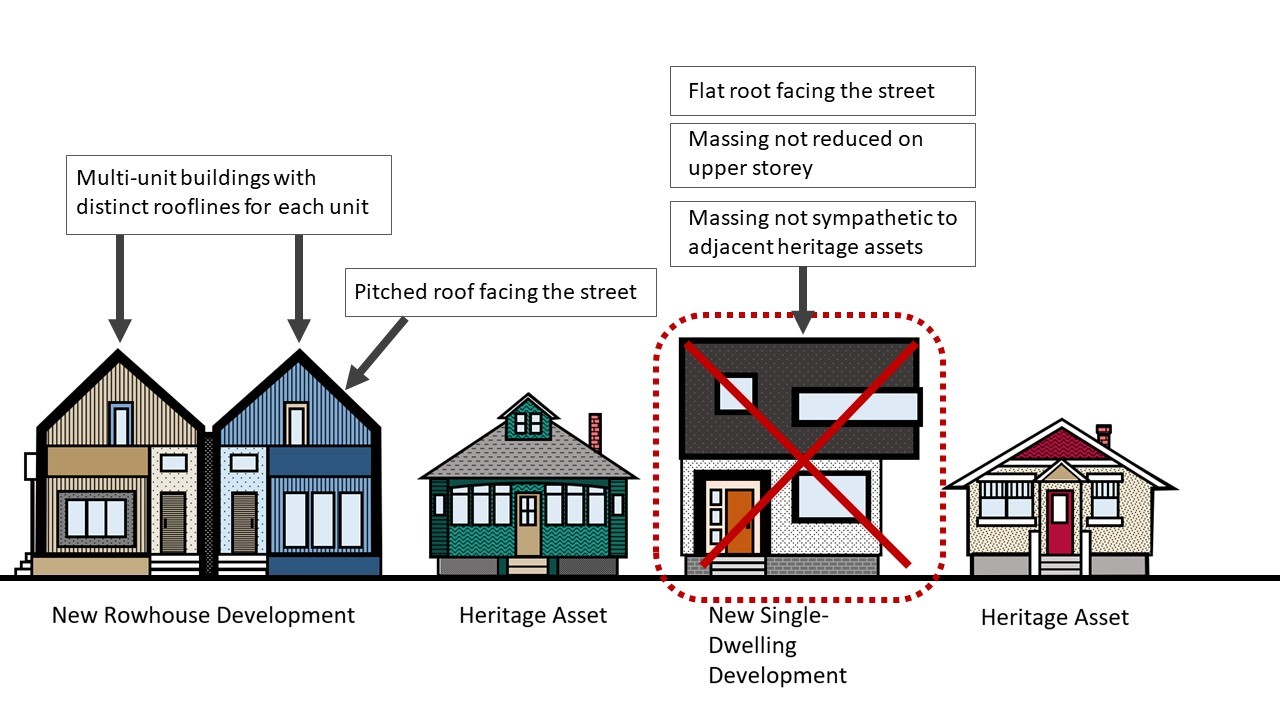 Site and Landscape Design
Front setbacks for new development should be informed by heritage assets on the block. The draft Guidelines encourage primarily soft landscaping in these setbacks that is layered and frames the site and building.